Law & Compliance Division Conference
28 April 2021 - 30 April 2021 • 9:00 AM - 3:00 PM ET Daily
Join us for FIA's virtual Law & Compliance Division Conference (L&C-V), taking place 28-30 April 2021. L&C-V will cover legal and regulatory issues impacting the derivatives industry as well as practical considerations driven by the remote work environment. L&C-V meets the needs of multiple levels of practitioners in the industry, from the new law firm associate to the chief compliance officer. Between live and on demand sessions, this year's program offers approximately 20 hours of CLE credit covering topics like enforcement, climate risk, digital asset regulation, SEC issues, clearing models and much more. Register by April 4 to get the best rates!
 

L&C DIVISION MEMBER: $400 
FIA MEMBER: $455 (includes L&C Division membership) 
NON-MEMBER: $500 
GOVERNMENT: $300 
Early bird rate ends on April 4! 
Please contact FIA Member Services memberservices@fia.org for assistance with registration. 
Keynote Speaker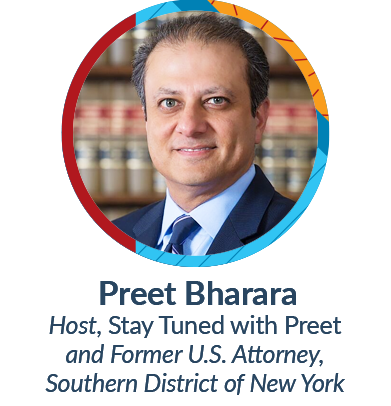 Agenda
Wednesday 28 April
Thursday 29 April
Friday 30 April
On Demand
---

9:45 a.m. ET
Welcome Remarks

10:00 a.m. - 10.30 a.m. ET
Keynote

10:30 a.m. - 11:30 a.m. ET
Enforcement Trends
What are the recent enforcement cases that you need to know about? This panel will highlight those cases and explain their implications for the industry. Panelists will also provide a sneak peek at what types of enforcement cases to expect in the near future.

11:30 a.m. - 12:30 a.m. ET
Roundtables, Networking, Break

12:00 p.m. - 1:00 p.m. ET
What is Keeping Compliance Awake at Night?
Things that go bump in the night (or throughout the course of the day) tend to keep compliance officers from getting much sleep. This panel will discuss the issues that are front of mind of compliance officers for both FCMs and swap dealers.
1:00 p.m. - 1.30 p.m. ET
Roundtables, Networking, Break
1:30 p.m. - 2:30 p.m. ET
Managing Climate Risk in the Global Financial Markets
This panel will address issues relating to the risks posed by climate change on the global financial markets, including developments in creating a globally consistent regulatory disclosure framework, challenges to establishing a carbon price and benchmarks with market integrity, and efforts to scale a robust, transparent voluntary carbon market.
2:30 p.m. - 3:00 p.m. ET
Sponsored Session, Roundtables, Networking, Break
3:00 p.m. - 4:00 p.m. ET
Regulation in Transition
4:00 p.m. - 4:30 p.m. ET
Networking Event
4:30 p.m. ET
Day 1 Concludes
Schedule subject to change.
---
---

9:00 a.m. - 10:00 a.m. ET
Market Abuse and Disruptive Trading
Regulators continue to aggressively enforce laws and rules to protect market integrity. This spotlight session will focus on cases involving allegations of market abuse and disruptive trading and will look at key differences in CFTC and exchange matters as well as differences in matters from various jurisdictions.

10:00 a.m. - 10:30 a.m. ET
Roundtables, Networking, Break

10:30 a.m. - 11:30 a.m. ET
The Regulation of Digital Assets: It's a Mad, Mad, Mad (Regulatory) World
Digital assets (also referred to as crypto assets or crypto currency or a dozen other names) seem to have entrenched as something that is here to stay. What regulations govern them you ask? Well, all of them of course. This panel will explain the mad, mad, mad world of regulation of digital assets where it seems like everyone is trying to govern them, yet no one actually is.
11:30 a.m. - 12.00 p.m. ET
Roundtables, Networking, Break
12:00 p.m. - 12:30 p.m. ET
Law & Compliance Division – Annual General Meeting
12:30 p.m. - 1:30 p.m. ET
Keynote Presentation
Preet Bharara, Host, Stay Tuned with Preet and Former U.S. Attorney, Southern District of New York
1:30 p.m. - 2:00 p.m. ET
Roundtables, Networking, Break
2:00 p.m. - 3:00 p.m. ET
Conducting and Defending an Investigation from Home
It is never easy to be the recipient of a regulatory investigation. Responding and defending against one while you and others are working remotely adds to the difficulty. Let's not forget that working remotely impacts the regulators too. This panel will discuss the challenges created by remote working as well as cover best practices to properly defend (or conduct) an investigation in this crazy environment.
3:00 p.m. - 3:30 p.m. ET
Sponsored Session, Roundtables, Networking, Break
3:30 p.m. - 4:00 p.m. ET
Networking Event
4:00 p.m. ET
Day 2 Concludes
Schedule subject to change.
---
---

9:30 a.m. - 10:30 a.m. ET
Ethics: Use of Zoom and Social Media

10:30 a.m. - 11.00 a.m. ET
Roundtables, Networking, Break

11:00 a.m. - 12:00 p.m. ET
Position Limits (Once More with Feeling)
The panel will discuss the most recent CFTC position limits rule including implementation issues facing firms and the need to come into compliance. The panel will also address the possibility that the CFTC under the direction of a new administration may revisit potential changes to the position limits rule.
12:00 p.m. - 12:30 p.m. ET
Sponsored Session, Roundtables, Networking, Break
12:30 p.m. - 1:30 p.m. ET
SEC Issues Affecting the CFTC World
The SEC may not be the regulator for futures or swaps in the US, but it still manages to impact those markets. This panel will look at key SEC issues that impact our world including portfolio margining of CDS swaps, funds' use of derivatives, and security-based swap dealer regulations.
1:30 p.m. - 2:00 p.m. ET
Roundtables, Networking, Break
2:00 p.m. - 3:00 p.m. ET
Pandemic Lessons
What did we learn from working from home? What regulations need to be changed in order to accommodate a new long-term work from home environment? Panelists will explore lessons learned that will be carried into the future for our industry.
3:00 p.m. - 3:15 p.m. ET
Closing Remarks
3:15 p.m. ET
Day 3 Concludes
Schedule subject to change.
---
---

Futures 101

What is Dogecoin?: A Case Study to Understand DLT, Crypto Assets and DeFI

Mechanics of Clearing and Settlement
Ever want to know how exactly clearing works? This panel will let you take a look under the hood and see how the sausage is made. Panelists promise to avoid mixed metaphors as they explain the mechanics of how products are cleared. Finally learn who does what and when.
Libor: Where Are We and Where Are We Going?
Brexit and Other Global Developments
Brexit is over but what does that mean? How has the landscape changed when operating in London and the UK to provide financial services to the continent? Plus, Brexit is not the only thing going on in the world impacting our industry. The panel will discuss the key highlights of global regulatory developments.
Agency Model vs. Principal Model: Distinction without a Difference?
This panel will discuss the evolution of the clearing models in the US, EMEA and other regions, focusing on jurisdictional legal restrictions. The panel will also discuss how these models have been relevant to the discussion on capital and accounting treatment over the years.
US Access to International Products
This panel will explore the regulatory regimes for US customers to trade and clear international products, including the impact of recent OFAC sanctions on products related to foreign entities, difficulties of foreign security futures.
Reporting and Recordkeeping
R&R is not about rest and relaxation! The new R&R is Reporting and Recordkeeping, which will leave you tired and tense. This panel will discuss key requirements of reporting and recordkeeping regulations and the challenges that keep market participants from getting it right. Panelist will also look at a spate of recent enforcement cases that focus on the dreaded R&R.
CPO / CTA / Investment Adviser Issues
Negotiating Client Documentation
What are the key points of contention in negotiating a futures account agreement or an ISDA Master Agreement? Why are certain provisions contained in agreements? Do they have to be there? What things just simply aren't negotiable? Learn from the experts as panelists discuss important factors in negotiating client documentation.
Market Volatility and Impact on the Clearing System
The past year has seen its share of market volatility from negative WTI futures prices and Covid-19 to sub-Reddit interventions in equity, options, and silver. What impact has that volatility had on the clearing system and how has the clearing system held up? Panelists will share lessons that clearing firms should take away from this past year and what can we expect in the way of regulatory responses to come.
---
Event Details
REGISTRATION
WHAT TO EXPECT FROM L&C-V
EVENT POLICIES
SOCIAL27 EVENT PLATFORM
L&C-V Registration
L&C DIVISION MEMBER: $400
FIA MEMBER: $455 (includes L&C Division membership)
NON-MEMBER: $500
GOVERNMENT: $300
The registration fee provides access to all 3 days of live programming and 30-days of on-demand access post-event.

Please contact FIA Member Services memberservices@fia.org for assistance with registration.
Access sessions when you want
We have taken our in-person conference and optimized it for virtual with live session broadcasts that convert to on-demand sessions that you can view at your own pace for maximum flexibility. Select content will be available for 30 days immediately after the event.
Maximize your CLE earning power
Double your CLE earning potential by participating in live and on demand sessions throughout the live conference and through May 30. We are seeking CLE credit from Illinois and Virginia.
Take the work out of networking
Our new virtual event platform allows you to chat with other attendees, ask questions directly to the speakers and interact directly with our sponsors in private, virtual roundtables. Search for individuals by their name, company, areas of interest or job title.
Substitutions/Cancellations
Notice of cancellations must be received in writing on or before 19 April 2021 and will be subject to a $50 administrative fee. Please e-mail Member Services for cancellations or substitutions. No refunds will be made after 19 April 2021 and all monies owed at the time of cancellation will be due immediately. Substitutions may be made at any time without penalty.
Privacy Policy
FIA values the privacy of our members, event registrants and website users. We enforce policies to safeguard the personal information that is entrusted to us by the FIA community. Direct contact information, such as addresses, emails and telephone numbers, are treated as confidential.  FIA never sells its registration lists to third parties and will never contact you offering to sell such information. We regret that you may become the target of these unsolicited offers and appreciate your assistance in bringing them to our attention. Your privacy is a top priority for FIA. We encourage you to review our  Privacy Statement for a comprehensive description of how FIA may use your personal information and out key privacy policies.  
Filming, Videotaping and Recording Policy
No portion of this event may be filmed, videotaped or otherwise recorded for posting or distribution without prior authorization from FIA. 
Virtual Conference Platform
FIA will use a virtual conference platform to bring you L&C-V. The platform is provided by a third-party vendor that specializes in hosting virtual events. Your registration information will be placed in the vendor's platform to populate your account for the conference. This will allow you to access all of the conference's virtual features: program content (live and recorded), sponsor profiles, and all networking and engagement opportunities, including messaging, chat, virtual roundtables, and meetings. You can control your profile visibility to other attendees and sponsors from your account privacy settings. Detailed instructions on managing privacy settings will be shared to all registrants when the virtual conference platform opens.
Get the most out of L&C-V by becoming familiar with our new event platform Social27. These video tutorials walk you through key features including profile set-up, session access, virtual networking and much more!
Platform Overview (use password social27 to access)
Social27 also offers shorter, individual videos based on each component of the conference:

Contact Toni Vitale Chan, Vice President of Business Development at +1 312.636.2919 to discuss sponsorship and exhibit opportunities. 
Sponsorship Opportunities
Explore the Options

L&C-V provides multiple sponsorship opportunities that will help you make valuable client connections, build your brand and showcase your products and services. Partner with FIA to deliver 3 days of valuable programming to legal and compliance professionals serving the cleared derivatives industry.
Law & Compliance Division
Learn more

The FIA Law & Compliance Division monitors legal and regulatory developments affecting the futures and derivatives industry, assisting FIA in providing information to help relevant regulators and courts make decisions that affect the futures and cleared swaps community. The division discusses issues with U.S. and International regulators and exchanges and prepares comment letters, position papers, and court briefs when appropriate. More than 600 industry professionals are members of the division and take part in regularly scheduled events and webinars in addition to the annual conference.