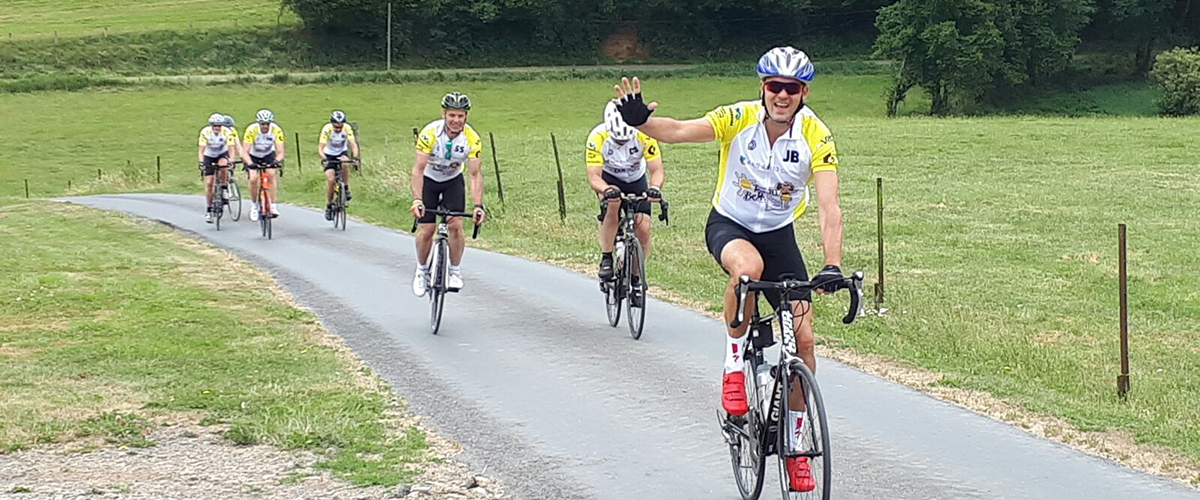 James Egan works for ABN Amro Clearing Bank as the chief commercial officer for Europe. In 2015 his 11-year-old daughter Beth was diagnosed with a type of auto-immune disease called scleroderma.
Scleroderma is caused by the immune system attacking the connective tissue under the skin and around internal organs and blood vessels. This causes scarring and thickening of the tissue and can to lead to debilitating illness.
The disease is extremely rare among children: roughly 1 in 200,000 children are diagnosed each year. Although it can be treated, no one really knows what causes the disease and there is no cure.
Egan was fortunate to find treatment for Beth at the Great Ormond Street Hospital, a world renowned children's hospital in London. But he was surprised to discover how little is known about the disease even among specialists. "The questions and uncertainties are endless and we still do not know what originally triggered Beth's scleroderma in the first place," he says.
Egan decided to do something about this. In the summer of 2017, he organized a bike ride across Europe to raise funds for research into scleroderma. With six other riders and three in support, he rode 1,600 kilometers (1,000 miles) over nine days. The ride started just outside London and passed through France, Belgium, Luxembourg and Germany. The riders then cycled over the mountains separating Austria from Italy and ended in Venice.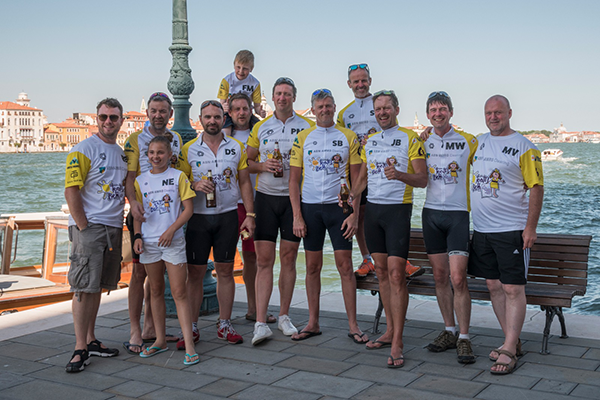 In addition to Egan, three of the seven riders were from companies in the derivatives industry: Jan Bart de Boer, chief commercial officer at ABN Amro Clearing; Paul Merrington, a partner at Winchmore Capital, a market making firm specializing in fixed income options; and Sean Balmford, a partner at JB Drax Honoré, a brokerage. Rob Berry, global head of commercial support at ABN Amro Clearing was also part of the support team.
Egan set up a funding page on Virgin Money Giving, a non-profit company set up by Virgin Money to support donations to charities, and he and the other riders drew on their connections in the industry to support the cause. He started with the goal of raising £100,000 but as news about the ride spread, funds came flooding in. By the time they had reached Venice, the Ride for Beth had raised £166,000, more than enough to launch a research program at Great Ormond Street.
Founded in 1852, the hospital has carried out ground-breaking work in understanding the nature and causes of diseases affecting children and pioneering new treatments. Great Ormond Street also has close connections to the University College London, and together they maintain the largest concentration of children's health research in Europe.
The funding raised by the Ride for Beth will be used to start a scientific program that will help specialists understand more about the monitoring, treatment and prevention of scleroderma. Egan is hoping that the research will lead to quicker diagnoses and better treatment for children with this disease, helping other families avoid the painful delays and uncertainties that his family went through.
In August Egan and the team presented the funds to Great Ormond Street and met with the specialists in the hospital's rheumatology and dermatology departments who will be conducting the research. Egan says he has no plans to continue the fund-raising project due to the overwhelming support already received; that is now in the hands of the hospital and its staff. But he hopes that the ride will inspire other people to launch their own charitable projects.
"People have seen what we've done and they are coming to me with questions about how to do this kind of thing," he says. "It would be wonderful if our ride had a knock-on effect."
Egan adds that he's been humbled by the generosity of the industry. Of the £166,000 raised, more than £100,000 came from individuals and companies in the industry. He was particularly touched by the response to an article posted by John Lothian, the editor and publisher of a widely read industry newsletter. The article described the ride and the reason behind it, and within a day after it was published more than £3,200 had been contributed by Lothian's readers, the majority of whom were unknown to Egan.
As for Beth, she has now entered her final year of a three-year course of chemotherapy treatment. Fortunately she has linear scleroderma, a less severe version of the disease. The treatment seems to have stopped its progression, at least for now, and Beth has been able to lead a normal life.
Read James Egan's blog that he wrote during the Ride for Beth.
Learn more about The Great Ormond Street Hospital and its research on immune system disorders.