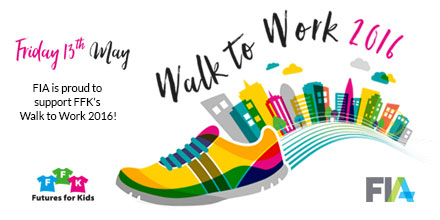 As part of FIA's ongoing commitment to give back to our communities and support the industry's charitable efforts, FIA staff members are supporting the Futures for Kids Walk to Work Day on Friday, May 13.  
Launched in 2008 by members of the derivatives industry, Futures for Kids has raised over £2 million to date to support children's charities around the world. The Walk to Work is a key element of the annual 'Futures for Kids Day'; other participants will be raising funds through sponsored dress down days, cake sales, pool tournaments and a wide variety of other activities.
In Europe, FIA staff members will join around 100 individuals from banks, brokers, exchanges and service providers to walk a circular route around London. Walkers will cover one or more 'legs' of the route, with around 40 hardy and committed walkers taking on the full circuit encompassing Victoria Park, Greenwich, Clapham Common and Regents' Park, before walking in to a Finish Line party in the City – a total of over 35 miles. The London team has raised £700 for the walk this year (fundraising page here).  
In the United States, FIA staff members will walk either a three or five mile route around the memorials and museums lining the National Mall before returning to FIA's offices.  The Washington team has raised $1,100 for the walk this year (fundraising page here). 
FIA's Asia office is working to raise money for Futures for Kids through the annual Kilt Challenge, featuring Bill Herder, head of FIA Asia.  Bill has raised one-third of the £10,000 pledged to support Futures for Kids at the IDX Gala Dinner (fundraising page here).